Repair Services/Trade
Fast, Reliable Repair Services for most models by Tri-Tronics, Dogtra and D.T. Systems.
Tri-Tronics - D.T. Systems & Dogtra
Innotek, SportDog and Tracking Equipment products are not serviceable by Collar Clinic

"You do good work and are very helpful."
Dan - Comer, GA
Shipping Address:
Collar Clinic
1517 Northern Star Drive
Traverse City, MI 49696

Service Request or Trade-In Form No RMA Required!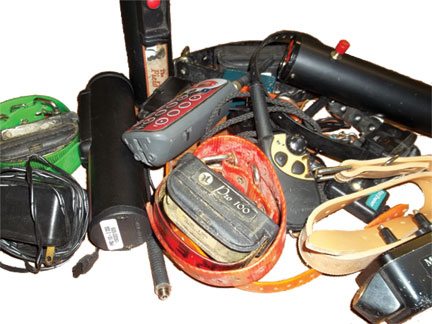 Trade in any e-collar and get credit on your purchase.
Trade in any make or model of Electronic Dog Training Collar on a New or Reconditioned collar and get a minimum of 10% off your purchase up to a maximum of $50.00.
Trade in any repairable or usable Tri-Tronics collar(s) manufactured since 1998 for a guaranteed minimum of 15% off on the purchase of the same number of collars. (These collars are antenna-less and do not require a turn on plug)
Repairable Tri-Tronics, Dogtra, Garmin Astro and DT Systems models will have a greater trade value. We will evaluate your system based on model, condition and supply & demand. Our representatives will confirm with you the exact amount we can offer in trade value. You are under no obligation to trade and can elect to have your system serviced for our flat rate fee or returned at no cost to you.
For an estimated trade value on your model, Call us toll free at 1-800-430-2010 M-F 8:30-5:00pm ET or e-mail: tradein@collarclinic.com. For actual Trade-In or cash value our technicians will need to evaluate your system.

Repair Services

The FLAT RATE REPAIR SERVICE FEE covers parts, labor, batteries as needed, Michigan sales tax and the return shipping within the continental US. (Canada, Alaska, Hawaii add $10.00). We restore your system to the manufacturer's original specifications. The repair service fee does not cover replacement of missing or non repairable accessory items, severely abused, corroded or water damaged equipment.
6 month warranty. Your satisfaction is guaranteed.

Service Rates for Tri-Tronics Trainers which Require the

Turn on Plug

Tri-Tronics A1, LR, LS, Lite, Judge, 300, Original Beagler and Trashbreaker Series

5 Business Days
Regular Service

2 Business Days
Express Service

Remote Trainer - Single
$109.00
$139.00
Remote Trainer - Double
$149.00
$179.00
Remote Trainer - Triple
$189.00
$219.00
Rechargeable Bark or Beeper Collar
$ 49.00
$ 69.00

Repairs are not started until payment is received. Please send your payment or contact information with you trainer to avoid delays. Remote Release Repairs are on the electronics only, price is based on number of receivers as above. If Launchers are sent, there is an addition $40.00 per launcher.
Tri-Tronics Sport, Field and Pro Trainers Repair Service
Repairs for Tri-Tronics models with the intensity selection dial are completed in 3 business days from the time payment is received. Both the transmitter and collar(s) must be sent in together. **The flat rate does not include the beeper repair or replacement on the Upland or Sport 65 BPR.
See below for detailed pricing by series.
6 month warranty. Your satisfaction is guaranteed.
Service Rates for Repair of Tri-Tronics pre "S" Trainers
Collars are turned on remotely from the Transmitter with the dial set to the zero setting
Sport Series
Sport 50/ Sport 60/ Sport 65 BPR* $115.00
Multi Sport 2 dog $140.00
Multi Sport 3 dog $165.00
Field 70 / Classic 70
Pro 100, 200, 500 / Flyway / Pro Beagler*
Trashbreaker / Upland*
One Dog Repair $125.00
Two Dog Repair $150.00
Three Dog Repair $175.00
Service Rates for Repair of Tri-Tronics "S" and "XLS" Trainers
Trainers with the on/off switch on the collar and the charger that plugs directly into the components.
NOTE: If you have a multiple dog system, you have the option of sending in just the non working collar
and transmitter for the one dog repair rate.
We offer Reconditioned S and XLS replacement transmitters as available. Replacement transmitter pricing varies by model, $89.00 - $249.00. We can replace some S and XLS collars in our Remake Service. Call 800-430-2010 to order replacement transmitters or determine the availablily of components.
Classic 70 / Field 90
Upland Special */ Flyway / Trashbreaker / Pro100 / Pro 200 / Pro 500
One Dog $160.00
Two Dog $185.00
Three Dog $210.00
Four Dog $235.00
Five Dog $260.00
Six Dog $285.00
Sport Series and Pro Control
One Dog or with one Receiver$125.00
Two Dog or with two Receivers$150.00
Three Dog or with three Receivers $175.00
*Repair rates for Sport 65 and Upland do not include servicing the beeper, a replacement beeper for a defective beeper is available with a repair service for an additional is $60.00.

Service Rates for G2 and G3 Trainers

G2 and G3 components are charged in a cradle.

G2 / G3 Collar Only Repair

G2 / G3 Transmitter Options

G2 / G3 Collar Only Repair- $99.00


Exchange options are available on any working or non working G2 or G3 transmitter. Send in your old transmitter and get a new G3 EXP transmitter starting at $179.00.

For G2/G3 transmitters, we offer a minimum 10% trade-up credit for your old transmitter.

Call 800-430-2010
Replacement components are available for the Tri-Tronics G2 and G3 Trainers
Flat Rate Service Fee

The FLAT RATE REPAIR SERVICE FEE covers parts, labor, batteries as needed, Michigan sales tax and the return shipping within the continental US. (Canada, Alaska, Hawaii add $10.00). We restore your system to the manufacturer's original specifications. The repair service fee does not cover replacement of missing or non repairable accessory items, severely abused, corroded or water damaged equipment. 6 Month Warranty. Your satisfaction is guaranteed.

Repair Fees for DT Systems and Dogtra Trainers

D.T. Systems and Dogtra Trainers

Regular Service
5 Business Days

Express Service
2 Business Days

One Dog Remote Trainer

$99.00

$139.00

Two Dog Remote Trainer

$139.00

$179.00

$179.00

$209.00

Four Dog Remote Trainer


$219.00

$249.00

Bark Trainer or Beeper Collar

$49.00

$69.00